Home / Delivery Issues with Carrier
Delivery Issues with Carrier
UPS Delivery Issues

If your order has arrived incomplete, or arrived damaged,
please Contact Us within 48 hours.
If you are inquiring about the delivery of your order, please login to 'My Account' and click on Order Status. Now click on the order in question and you can find the tracking number. Just click the tracking number for more information.
Always Inspect your order immediately upon delivery before the carrier leaves if at all possible. Do not sign for a damaged parcel without a full inspection of the contents. If you detect visible physical damage to the product or missing items, refuse the package and Contact Us immediately. Reports of damage or missing product will only be considered if reported within 48 hours of initial receipt of package.
All reported damages or missing product reports will be investigated by the carrier. Please do not discard any shipping materials and/or manufacturer's packaging. Just reseal the package and hold it for at least 8 business days in case UPS needs to do a physical inspection. Once the claim is complete then you will be notified to discard the contents and packaging.
If you don't want to wait until the damage or loss investigation is completed and you want us to send a replacement item right away please Contact Us. We will ship the in stock item right out. We will charge your credit card on file for the replacement and then refund the money for your original order once the carrier approves the loss or damage claim.
If you order multiple packages, we do band or strap the boxes together for a complete shipping order. There may be times when the banding has come apart, but don't worry; each box has a shipping label attached and your item will be delivered in the next UPS delivery. There may be times when there is a full UPS truck and your order may be separated and delivered by two or three different trucks over a days time. You can always check to see if this is the case by logging into your account and looking at Order History. Click on the order number in question and you will find the tracking numbers. Clicking on the tracking number will give you the information you need for that delivery.
USPS Delivery Issues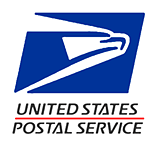 Please allow ample time for delivery by the Post Office. It is not uncommon for a postal order to take up to 10 weeks to arrive to a military or international address. Many of these orders travel by Ship and then are processed through customs, which increases the delivery times.
Postal packages can not be tracked like a UPS order, nor are they insured against loss or damage. If UPS delivery is available, we highly recommend UPS as the shipping method of choice.
International US Postal packages that are lost, confiscated by customs, or damaged are not refundable. So again double check your address for accuracy. We will attempt to contact you if your package is returned.