USA (48 States) Domestic Shipping Information
Shipping Option
Details
Rapid Delivery (1-4 Days)

Your order moves to the front of the line! (USPS / UPS)

Free Shipping (3-5 Days)
FREE Shipping on $59 purchase within the 48 States. (USPS / UPS)
Flat Rate (3-5 Days)

Orders less than $59. (USPS / UPS)

2-Day Air*

Delivered when you need it – Fast! (UPS)

Next Day Air*
Guaranteed Overnight Delivery, if ordered before 3 pm CST. (UPS)

*Orders placed before 3:00 pm CST will ship same business day. Some restrictions apply.
Discount Coffee Time in Transit Map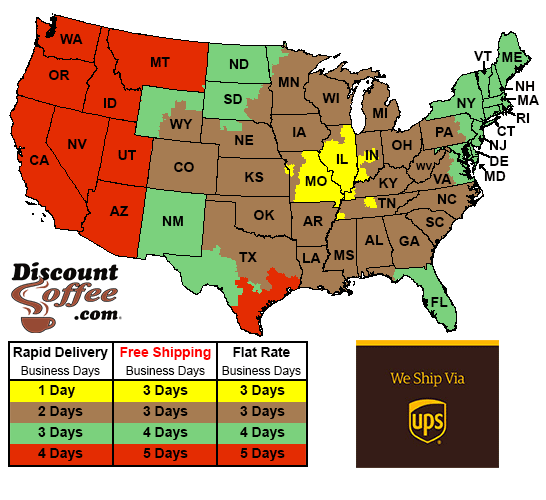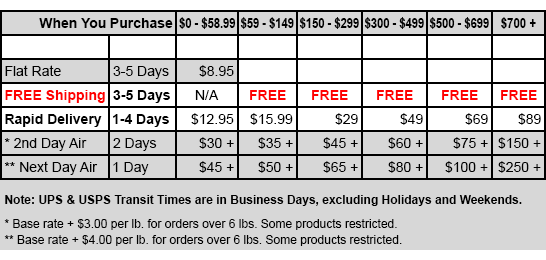 Address Verification:
Please double check your shipping address information before completing your order. Inaccurate Addresses will result in your order being returned to DiscountCoffee.com for Additional Shipping Charges.

Various shipping carriers are used to provide you with the Fastest and most Economical shipping options. Please provide a physical address for your delivery destination. If you do not receive USPS at your home, please provide an address that is suitable for both USPS and UPS delivery. We do not ship to PO Boxes.
Package Intercepts:
Once your package has shipped please contact us if you need to change the address or have it delivered elsewhere. There is a per package intercept fee based on weight, dimensions, and destination, that we will need to collect prior to making the address change.

UPS
You can contact UPS directly at 1-800-PICKUPS, to have your package held at a UPS facility for pickup. UPS cannot make any changes to the address or re-route your package unless you are signed up for UPS My Choice, where you can take control of your home office and / or home deliveries.
Sign up here for UPS My Choice - and take control of your home deliveries.


USPS
If your package went postal, you can contact your local USPS office and ask to have your package held for pickup.
USPS cannot make any changes to the address or re-route your package.

In the event your package is returned to DiscountCoffee.com by the shipping carrier, additional fees will be applied.
Please call us Toll Free at (866) 552-6333 or email Mary@DiscountCoffee.com as we can help you with any shipping questions.