US Military / Alaska / Hawaii / US Territory Shipping Information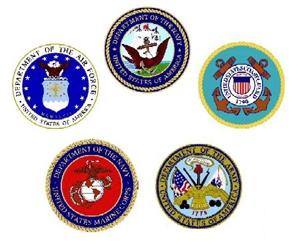 APO / FPO / DPO Destinations
Discount Coffee will ship your order to you or your loved ones in the Military, saving you time and added shipping cost. You may also leave a Comment during checkout if you would like us to include a Special Message or Note for your loved one in your shipment. We beat our competition hands down when it comes to the Special Care we give to our Military customers.
Destinations include: Armed Forces Africa, Armed Forces America, Armed Forces Canada, Armed Forces Europe, Armed Forces Middle East, Armed Forces Pacific
All orders are shipped USPS Priority Mail.
DoD MAIL TRANSIT TIMES
EUROPE / ATLANTIC
(APO / FPO AE ZIP™ Codes beginning with 090–092 and 094–099)
Priority Mail® Service 7–9 Days
IRAQ / AFGHANISTAN / MIDDLE EAST
(APO / FPO AE ZIP™ Codes beginning with 093)
Priority Mail® Service 7–13 Days
JAPAN / KOREA / PACIFIC ISLANDS / FAR EAST
(APO / FPO AP ZIP™ Codes beginning with 962–966)
Priority Mail® Service 7–9 Days
CENTRAL AMERICA / SOUTH AMERICA / CARIBBEAN
(APO / FPO AA ZIP™ Codes beginning with 340)
Priority Mail® Service 7–9 Days
Undeliverable Packages and Inaccurate Addresses will be returned to sender by the US Post Office. Inaccurate Addresses will result in your order being returned to DiscountCoffee.com for Additional Shipping Charges and a Restocking Fee of 15%. Please review the Return Policy.
Hear what others like you have to say about DiscountCoffee.com's Military Shipping ...
"Thanks for making it easy to ship our Holiday Care Packages to our troops."
Jen Newbury, CA
"The West Point Military Academy uses exclusively Chock full o' Nuts Original Coffee."
"The Heavenly coffee" since 1932

Alaska/ Hawaii / US Territory or Freely Associated States
We offer USPS Priority Mail shipping to: Alaska, American Samoa, Federated States of Micronesia, Guam, Hawaii, Marshall Islands, Northern Mariana islands, Palau, Puerto Rico, Virgin Islands
USPS Priority Mail (Transit Time 1-3 Days)
Always check your shipping address to verify it is complete. Remember to include your Suite, Apt, Floor and/or Building number. Returned packages due to inaccurate addresses will result in additional shipping and processing fees. All shipping and return fees are non-refundable if you should decide to decline delivery, or the package is returned. Please review the Return Policy.